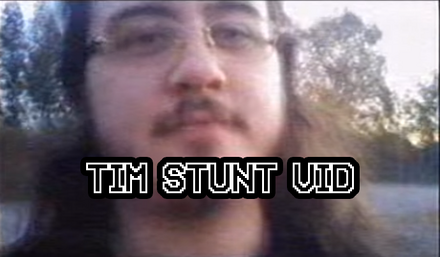 Tim stunt vid, stylized as tim stunt vid, and commonly referred to as simply Stunt Vid, is the first installment of the Stunt Vid series of videos. It was filmed on October 21st, 2013 and uploaded on January 1, 2014 onto MasterBobsy W's channel. A sequel, Stunt Vid 2, was released on June 25th, 2015.
Tim stunt vid is actually an edit of an older MasterBobsy video, titled Whoospie.
Characters Featured
Trivia
The first Stunt Vid to use a CKY song, a staple for the series, as there is a CKY song in every Stunt Vid (excluding Stunt Vid Zero).
The first Stunt Vid to have a VHS filter, which would later be used also in Stunt Vid 3.